Silent Film Scores
---
Description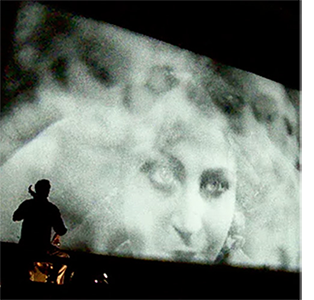 Innovative cellist/composer Gideon Freudmann's original scores for silent films incorporate classical, jazz, folk, and world music elements. Working with an electric cello and real-time electronic effects, he creates elaborate sound textures, haunting melodies, and driving rhythms that beautifully enhance and energize the imagery of silent films.
Gideon's CD, The Cabinet of Dr. Caligari, is a live recording accompanying the classic 1919 German Expressionist silent film. He has accompanied silents throughout the US and peerless in his unique and original approach to this timeless art form.
Gideon has presented these shows at museums, colleges, opera houses, art spaces and historic movie theaters throughout the country.
Gideon has composed and performed soundtracks for: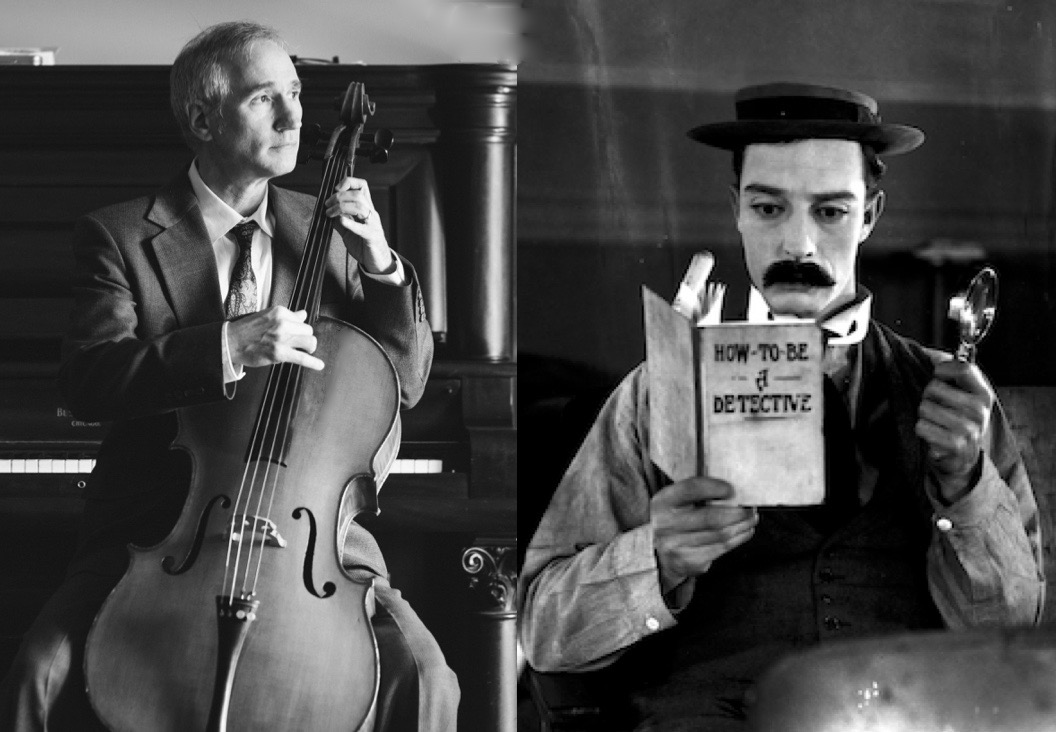 •The Cabinet of Dr. Caligari
•The General
•Metropolis
•Sherlock Jr.
•Phantom of the Opera
•Steamboat Bill, Jr.
•Pandora's Box
•Woman in the Moon
•College
•Nosferatu
•The Golem
•Frankenstein
•Downhill (Hitchcock)
Please
Contact
Gideon if you would like to schedule him in your area.
Video Samples:
"The Cabinet of Doctor Caligari" with Gideon's original score.
To purchase CD or DVD
, visit the
CelloBop Shop
Gideon performs live in Brattleboro, Vermont, (excerpt from Fritz Lang's 'Metropolis")
Venues Where Freudmann has presented silent films:
Alaska Ctr for Performing Arts - Anchorage, AK
Chautauqua - Boulder, CO
Real Art Ways - Hartford, CT
Bing Crosby Theatre - Spokane, WA
Plaza Theatre - El Paso, TX
Walters Cultural Arts Center - Hillsboro, OR
Eastern Washington University - Spokane, WA
Coleman Theatre - Miami OK
Essanay Theatre - Niles, CA
Northwest Film Center - Portland, OR
Pothole Pictures - Shelburne Falls, MA
Plaza Theatre - Atlanta, GA
State Theatre - Red Bluff, CA
OK Theatre - Enterprise, OR
North Star Theatre - Cordova, AK
Valdez Civic Center -Valdez, AK
Reviews
AMHERST BULLETIN
Bonnie Wells
Theatres and festivals from Bucksport, Maine to Berkeley, are rediscovering the art of the silent movie. And many are doing it the old-fashioned way - with live musical accompaniment. Cellist Gideon Freudmann has performed recently for shows in the Berkshires, Vermont and Colorado. He'll bring the form home Saturday when the Amherst Film Club presents the groundbreaking 1927 German film "Metropolis" by Austrian/American Director Fritz Lang.
"I seem to be specializing in German Expressionist films of the '20s," Freudmann said recently as he gave a visitor what he calls "the tour of the toy" in his home studio. "I've performed with "Pandora's Box", "The Cabinet of Dr. Caligar" and this is my second time doing the soundtrack for Metropolis." The tour of the toys is a jaunt through the accessories to Freudmann's electric cello, the instrument he's been specializing in for the last five years, and the one he will use to create the mood for Metropolis. One pedal creates an echo, another can "memorize" a phrase and repeat it indefinitely or reverse it as Freudmann layers on more phrases and/or plays a counterpoint. There's a distortion pedal and one that can delay a phrase or change the pitch. "It's another way to color the sound," Freudmann says. The cello is an instrument that mostly plays one note at a time. This [equipment] helps me build layers of sound to create textures and tensions and weave them together. It allows me to play different sounds for different characters."
Freudmann, who has also composed and recorded soundtracks for several contemporary independent films, prepares for accompanying the silents by watching the films several times, always with the sound off. Though he takes special note of scene changes and other transitions, he doesn't write anything down. "When I perform one of these movies, I'm led by my mood," he says. "It doesn't feel the same every time. In a way, it's like going to a concert. The feel of the movie will change with every performance." What the music adds is atmosphere, he says, sometimes by reinforcing what's happening on the screen, sometimes by providing stark contrast. And what's happening on the screen, says Larry Jackson, longtime managing director of the Orson Welles Cinema in Cambridge, will be the world's first science fiction feature film. Jackson, a member of the board of the Amherst Cinema Center, will introduce the film and set it in a historical context. "The influence of this film is extraordinary," he says.
"The Cabinet of Dr. Caligari"
by David Longey
Gideon Freudmann's latest sonic offering is something of a departure from his previous albums. The same virtuoso playing and mindbending digital enhancements, which Gideon has put his special mark upon, are here. But instead of a collection of tunes grouped together as a mix, Caligari has a cinematic flow and duration, being the live recording of Gideon's accompaniment to the great silent German Expressionist film of the same name. Enhancing his already full solo sound are Michael DiMartino on percussion, Dave Hower on drums, and Chris Haynes on accordian, who provide a post-production musical flourish that blends effortlessly with Gideon's previously captured performance- just the right addition of arabesque drumming and the old-world sigh of the squeezebox.
Caligari is a tale of madness, and the trademark Cellobop psychedelia serves it well, as the Cello is taken thru delicate passages of suspense that crescendo into lunging cascades of action and cabaret-like musical segues. The traditional structures of the short musical number, which even in Gideon's prior albums exploring pure instrumentals employed, are hinted at here, but the free-flowing nature of the music as film soundtrack blends and washes these foundations down and around in a flood of unfolding atmosphere that is dark, expressionist, sinisterly humorous, and evokes noir-ish thought pictures, reflecting the film's starkly unusual design.
Like a dream, or to be more precise, like a movie, Caligari does not pause to inform us that a new song has begun. Their are 10 tracks on the album, but they are assembled in such a way that there are no breaks in the performance. This allows for listening that is not confined to three minute, twenty second stories... Caligari is just shy of a full hour of exotic journeying through a detailed landscape of mystery, mood and musical craftsmanship. Watch it along with a copy of the film- or better yet, make yourself comfortable, close your eyes, and allow this album to create a wholly unique movie in your mind.
Gideon Freudmann: Writing new music for silent films
Experimental cellist will perform live soundtrack for 1924 comedy movie
By Zachary Snowdon Smith - The Cordoba Times
Genre-defying cellist Gideon Freudmann will perform at the North Star Theatre
In his college days, cellist Gideon Freudmann loved to practice at sunset, improvising a soundtrack for the clouds as they changed shape in front of him. Since then, Freudmann has built a career composing soundtracks for motion pictures, both new releases and classics of the 1920s.
During the silent era, films were usually screened along with a live musical accompaniment. Freudmann has done what he can to remind audiences that seeing a movie and going to a concert needn't be an either/or proposition.
"Nowadays, if you go watch a movie twice in a row, you're going to see and hear exactly the same thing," Freudmann said. "But, if you go to see a silent film with live music, it will be different every time."
Since first visiting Alaska with the Portland Cello Project, Freudmann has returned as often as possible. His 2020 Alaska tour will kick off at 7 p.m. Feb. 16 with an appearance at Cordova's North Star Theatre. Freudmann will play selections from his previous albums, as well as performing a live soundtrack for "Sherlock, Jr.", a 1924 comedy film directed by and starring Buster Keaton.
In a film so overflowing with imaginative pratfalls and action stunts, timing is everything. Executing precisely cued scene transitions is, for Freudmann, the toughest part of playing a live soundtrack. It requires a thorough familiarity with the film - something Freudmann doesn't lack when it comes to Buster Keaton.
"Keaton is just so funny and timeless," Freudmann said. "But I find that these films are even more timeless if you don't have an old soundtrack. Sometimes, I'm watching a silent film and the embedded soundtrack it can feel dated. An updated soundtrack breathes new life into the film and makes it feel more current."
Freudmann has also composed extensively for German expressionist films, a genre marked by bizarre imagery and an unsettling, dreamlike style. The influence of German expressionist films like "The Cabinet of Dr. Caligari" can be seen on later, less avant-garde, horror and crime thriller movies.
"They're really entertaining, but they're usually kind of dark," Freudmann said. "Even though they're not especially scary by today's standards, people expect them to be, so they're hesitant to bring kids, But 'Toy Story' is probably more scary than the average German expressionist film!"
Freudmann's performance in Cordova will be followed by stops in Valdez, Anchorage, Skagway, Haines and Petersburg. Having never before explored Alaska south of Seward, Freudmann said he also looks forward to hiking around Cordova, if possible.
Buster Keaton's silent movie 'Sherlock Jr.' moves to CelloBop
Tammy Ellingson - The Oregonian
'Gideon Freudmann self-described lover of words is a writer and composer whose wordplay is evident in the titles of his CDs: "Cello Shots," "Cellobotomy," "Fellini's Martini" and "Ukrainian Pajama Party" to name a few. How does a cellist with a love of words end up providing soundtracks for silent films almost a century after talkies began?
It began with a "phantom" experience for Freudmann, playing the cello for the annual Halloween showing of "Phantom of the Opera" at Simon's Rock College in Massachusetts, a soundtrack traditionally provided by organists.
Silent films may be a niche genre, and most aficionados may be of a certain age, but Freudmann believes these films have an appeal that transcends generations. His live soundtrack for "Buster Keaton's Sherlock, Jr." will be a cinematic event the whole family can enjoy. At just under an hour, this film is great for even the youngest in the audience.
"Sherlock, Jr." is ranked as one of the top 100 funniest films by the American Film Institute, and as Freudmann says, "It has physical comedy and gags that look fresh and creative all these decades later." To open the show, he will perform a mini cello concert, and then the film will roll accompanied by his electric cello.
Gideon has created a multifaceted career as a cellist, calling his meld of jazz, modern, classical and blues "CelloBop." He has performed at jazz festivals internationally, and his music is featured in the soundtracks of a number of films and television shows. From his many projects with the band Caravan Gogh and his performance on "A Prairie Home Companion" with the Portland Cello Project, to his solo concerts and silent film soundtracks, his wit and musical mastery invite audiences of all ages and backgrounds to enjoy the cello in new ways.
CELLOBOP
Jeff Rosenberg - Willamette Week
Hearing Gideon Freudmann's genre-warping music reminds me of something paleo-rock-critic Lillian Roxon said of Tim Buckley: "There is no name yet for the places he and his voice can go." Except in Freudmann's case there is a name, of the cellist/composer's own invention: "CelloBop." He coined the tag, he says, after too many too-brief conversations with bookers. "They'd ask, 'What do you play?' and I'd say, 'I'm a cellist,' and it was like, 'This conversation is over,'" Freudmann recalls. "I might as well have been saying, 'Hi, I have herpes-wanna go on a date?'" So adding the "-Bop" signified "something different, something fun," reflecting his unconventional approach to his instrument.
Freudmann migrated to Portland at the end of last summer, after 18 years in Western Massachusetts. He says he "didn't come too well-connected" to the local music scene, but considered Portland a place "big enough that there's lots going on, but small enough not to eat you alive in a sea of humanity, or inhumanity." Portland's open-minded music lovers, however, are probably going to eat him up, because Freudmann does unimaginable things with his cello. He not only coaxes sound from it by any means imaginable, striking or stroking it with hands or bow in unpredictable ways, he feeds that sound through an array of electronics that can make it seem like a hundred cellos playing at once, or not like a cello at all.
Then there are Freudmann's compositions, ranging from evocative instrumentals to Zappa-like joke-rock complete with droll vocals. While he began writing his own songs as part of a guitar-cello duo, and continued after it disbanded, he now prefers writing wordless music. Much of it retains narrative structure, though, due to Freudmann's newfound interest in performing accompaniment to silent films. His latest album of the dozen he's self-released, The Cabinet of Dr. Caligari, was recorded mostly live during a screening of the famous silent horror film. Freudmann will soon arrange a DVD release of the film with his soundtrack; meanwhile, local audiences can look forward to a planned performance/screening at the Hollywood Theatre in June.
Cellist and composer set to bring 'Nosferatu' soundtrack to life
Casey McCarthy - Columbia Basin Herald
MOSES LAKE - Columbia Basin Allied Arts and Grant County Fairgrounds are teaming up tonight for a special edition of Cars Under the Stars for their showing of the classic film "Nosferatu."
Gideon Freudmann, a trained cellist, composer, songwriter and founding member of the Portland Cello Project, will perform the 1922 film's score in conjunction with the drive-in showing. A livestream of the performance will also be available for people watching from home.
"Since it's a silent film, we thought it would be really fun to show it at a drive-in, and we could stream it, and it would really lend itself nicely to that," Freudmann said. "Since the film was 'Nosferatu,' a classic Halloween-type of movie, it would fit well at this time of year for people to sit in their cars and attend."
He started playing cello when he was eight and has been playing for the last 50 years. Starting with classical music, Freudmann has expanded into a variety of other genres and experimental styles. He has performed traditional concerts and shows, worked with dance troupes, and performed for both silent and live film soundtracks.
He has performed silent film scores for about 20 years, and tonight's performance won't be the first time Freudmann has performed the score for "Nosferatu."
"The music that I do is unusual and esoteric; particularly in the cellist world." Freudmann never made a point to be mainstream, but it was interesting that the more niche his work became, the more interest came with it. The first silent films he worked with were primarily German, expressionist films similar to "Nosferatu," "The Phantom of the Opera" and "Metropolis."
The cello is a beautiful instrument that can lend itself toward creating a dark, ominous sound. "In Hollywood, some actors get typecast, and some instruments get typecast," Freudmann said. "The cello has to some extent been typecast as the sad instrument."
Freudmann has always enjoyed performing and having a shared experience with the audience. While tonight's show won't have that same setup, with him performing from Big Bend Community College a few miles away, he said it can still be a shared experience.
"Everybody is having to make do," Freudmann said. "These are unusual times, so any opportunity to perform is good. I feel very lucky that I can do this, and I'm happy to get to perform. Nosferatu" is a brilliant, ominous film , ideal for Halloween. It even features a sub-plot concerning a plague that he said is "eerily timely."
Plaza Classic Film Festival, El Paso, TX
Electric cellist Gideon Freudmann accompanied the 1920 silent classic "The Cabinet of Dr. Caligari" as an illustration of how modern technology can do what the theater organ was created to do more than 80 years ago. In a world where people routinely watch movies on their laptops or even phones, there's nothing like the experience of watching a film on the Plaza's 43-foot screen, with an audience of thousands. "Sharing that experience just magnifies the sense of wonder and awe that these classic films trigger."
---