Shop Discs
---
Secure On-Line Ordering with PayPal

* CDs $10 each
* DVD $20
* Sheet Music $14 - $17 each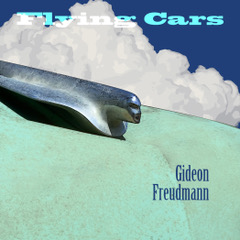 Flying Cars

(Octagon 2022, CD)
Gideon's newest solo CD, taking composition and arrangements to a new level. Cello goodness at the core with various instruments adding tasty flavors.
Hear excerpt from the track "Tumbleweed":

Cello Shots

(Octagon 2011, CD)
A compilation CD that includes a mix of instrumental cuts from several CDs, plus one previously unreleased track.
Hear excerpt from the track "Denmark":

Rain Monsters

(Octagon 2012, CD)
Gideon pushes the electric cello further with moody soundscapes, catchy melodies and driving rhythms. Accompanied by drums, sitar & other fun sonic candy. Includes the award winning "Denmark" & plaintive "Fiddler on a Hot Tin Roof".
Hear excerpt from the track, "Love":

Freudmann & Oberlin- Magnetic West

(2015, CD)
Gideon Freudmann and Brian Oberlin's magnetic talents will attract acoustic folk lovers. A sprightly collection of cello and mandolin with vocals and flourishes of lap steel, banjo and percussion
Hear "Music For A Found Harmonium":

7 in the Afternoon

(Octagon 2011, CD)
Gideon Freudmann and Mark Herschler return with their intricately meshed, and mesmerizingly beautiful cello and guitar instrumentals. Soulful and skilful music.
Hear an excerpt from the track "Romanza":

Unraveling

(2017, CD, LP)
Gideon (cello, piano, percussion) teams up with Annalisa Tornfelt (vocal, violin, nyckelharpa, guitar) on this beautiful, cinematic album. CDs available right here.
LPs are available (while they last) at Jealous Butcher Records.

Two CDs for $18
Specify the titles of any 2 in-stock CDs in the field provided.

Sonic Surf

(Octagon 2008, CD)
The electric and acoustic cello trade tracks, finding that perfect balance of funky, sparse, edgy, lulling and mind-bending. Never a dull moment.
Hear excerpt from the track "Banjo Dreams":

Caravan Gogh

(Go-Gogh Music 2007, CD)
Gideon's hip post-modern string band (cello, ukulele, mandolin and bass), blending swing, funk, jazz and mysterioso. Energetic and beautiful original songs ranging from gypsy waltzes and calypso inspired dance tunes to serene soundscapes.
Hear excerpt from the track "City Life":

Ukrainian Pajama Party

(Gadfly Records 2001, CD)
Mostly instrumental CD, with cello, guitar, steel drums, mandolin and fiddle. A sparkling batch of varied tunes including Japanese Car (heard on "Car Talk")
Hear excerpt from the track "Brannock Device":

Ghost in the Attic

(Octagon 2005, CD)
Gideon and guitarist Mark Herschler combine flamenco, blues and inspired improvisations with classical chestnuts by Tarrega and Bach. "In one era and out the other".
Hear excerpt from the track "Tarrega Minor":

The 3 Faces of Steve

(Octagon 2014, CD)
Caravan Gogh's 2nd CD is an eclectic 7 song EP including blues, a waltz, a reinterpretation of an 18th century classical guitar piece, a tune by The Lovin' Spoonful & some unclassifiable originals.

Hologram Crackers

(Gadfly Records 1999, CD)
Instrumental album for solo cello. Funky, lush, bluesy, boppin', multi-layered electric cello extravaganza. Includes Robin Hood Changes His Oil. (An NPR fave)
Hear the track "Back Porch":

Sasquatch

(2020, CD)
Gideon (cello, etc) and Lord Russ (vocal, guitar, etc). An album full of countless sonic delights that are melodic, psychedelic, rockin', poppin', effervescent and wistful.
Hear excerpt from the track "Leaving Town":

The Cabinet of Dr. Caligari

(Octagon 2006, CD)
Original soundtrack for the classic 1919 German Expressionist silent film. Incorporating classical, jazz, folk, and world music, this CD features an amazing range of styles and moods, with electric cello, percussion and accordion.
Hear an excerpt from "The Circle Is Closing In":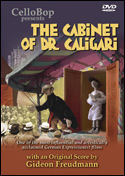 The Cabinet of Dr Caligari, DVD

(Octagon 2008, DVD)
The original 1919 German Expressionist masterpiece of silent cinema, blended with Gideon's original soundtrack featuring electric cello, drums, percussion and accordion.
Sample with original score:


Adobe Dog House

(Gadfly Records 1997, CD)
Freudmann's blend of superior musicianship and skillful arranging stirs the listener. These songs and instrumental compositions traverse the multicolored tapestry of human emotion with insight, humor and vulnerability. With cello, guitar, mandolin, piano and percussion, includes Tuscany and Somewhere Over the Rainbow.
Hear excerpt from the title track:

Spring Breakup

(2017, EP)
Six Alaska themed songs written by Annalisa Tornfelt and Gideon on this Portland Cello Project EP, featuring cellos galore plus piano drums, trumpet, violin and Annalisa's beautiful voice

CelloTales

(Octagon 2004, CD)
This Parents Choice Gold award-winning Children's album teams up Gideon with storyteller Leeny Del Seamonds. He provides a sonic backdrop as she tells tales of magic cranes, accepting spooky dares, and the perils of getting what you wish for.
Hear an excerpt from the track "Suki":

BROQUE- Dancing On My Hat

(Octagon 2002, CD)
Gideon is joined by Mark Herschler on classical acoustic guitar for 16 masterful instrumentals composed by themselves and by J.S. Bach.
Out of Stock

Banking Left

(Gadfly Records 1995, CD & cassette)
Freudmann's toe-tapping tribute to blues, folk, and rock n roll cuts loose with zany comic lyrics and a distinctly light-hearted sound. His pop sensibilities collide with classicism in a groove that's uniquely CelloBop. Psychedelic, Beatlesque, classical-avante-blues.
Out of stock

Sound of Distant Deer

(Gadfly Records 1998, CD)
An extraordinary blend of divergant styles- ancient zen tunes, modern classical pieces and bluesy, funky tunes-All duets for cello and shakuhachi (japanese flute, played by Ronnie Nyogetsu Seldin).
Out of Stock

Cellobotomy

(Gadfly Records 1995, CD)
Featuring cello-laden, vivid instrumental excursions into steel drum, guitar, and percussion. The soundtrack to your surreal dream.
Out of Stock

Holiday Clocks - More Batteries

(Octagon 2001, CD)
$20 for 2-CD set. From Gideon's former duo "Holiday Clocks", with Peter Cummings on guitar. Includes their self-titled debut album (long out of print) plus a collection of 27 never released tunes. Bizarre, charming and occasionally just plain weird.
Out of Stock

Fellini's Martini

(CelloBop 1993, CD)
Fusing the grace of cello with the spirit of a back-up band, Freudmann skillfully integrates full-bodied jam sessions with playful lead vocals. This winning ensemble is a high-energy blend of comedy, percussion, and good clean fun.
Out of Stock
---